6th Annual Golf Tournament


Registration is Now Open!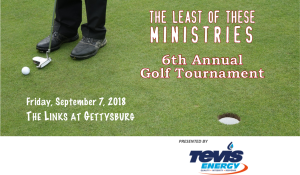 Register now for this year's Golf Tournament Fundraiser! We are so grateful for the many people who make this event a success every year. Please consider coming out to enjoy a morning of golf at the beautiful Links at Gettysburg, while helping to support our work in the Dominican Republic.
Sponsorship opportunities are available. Promote your business while making a positive difference in the lives of impoverished families.
Click here for the registration form with complete information! Sponsors should register by August 17 and golfers should register by August 28.
NEW!  You may now pay tournament registration and buy tournament sponsorships online via PayPal or credit/debit cards! Make your selection from drop-down menus below, and complete the transaction on the secure PayPal page that is opened.
After making payment via the PayPal site, please mail or email your registration form to:
The Least of These Ministries
PO Box 2824
Westminster MD 21158-7824
info@leastofthesemin.org