Do you feel called to serve on one of our mission teams?  Print out a trip application

here

.
The Least of These Ministries provides a cup of rice and a cup of beans to more than 9,000 people living in the bateys. While this may not seem like much, this program has made a tremendous impact on those who benefit from this mission.  Rice and beans provide protein and in many cases will be the best meal these people get all week.  Once a month we are able to give an egg in addition to the rice and beans.  This is a special  treat.
Even though we are currently feeding 9,000 people in this program there are many thousand more that need our help. These people have very little means to make money to buy food.  Please prayerfully consider giving to support this much needed program.
Warehouse Project 
I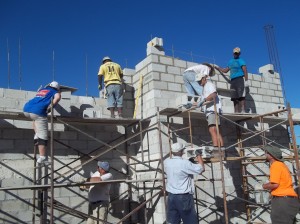 n June 2011 we started work on our very own warehouse to store the rice and beans as     well as our trucks and other equipment.  This is a large project but is necessary to help cut our expenses in the future. Believe it or not, warehouse space is very expensive in the Dominican Republic and there are not many places available for us to safely store our supplies.
We have made a lot of progress with this project!  To date we have completed all of the walls except for the front entrance, and will shortly be making plans to work on the roof.  All of the mission teams have been working very hard to see this project finished.
Water Treatment Facility 
In January 2010, The Least of These Ministries started working on a Water Treatment Facility in Batey #3.  The well has been dug and is providing a huge source of water.  The Building that houses the water treatment equipment has been started and we hope to complete this project within a year.  Once complete, this facility will provide pure water to approximately 4,000 people in the surrounding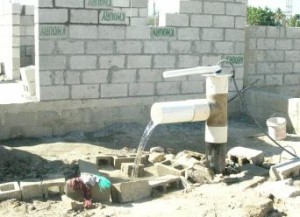 area.  It will be quite a blessing for these people to have an abundant clean water source.
The water treatment center is now up and running and providing thousands with clean drinking water.  See picture to the right of the completed facility.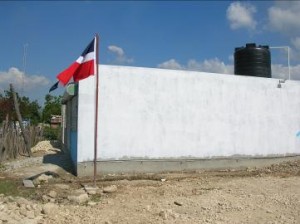 Los Robles Church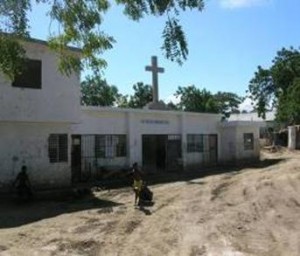 Early in 2005 we started a building effort to construct a Church in  the Los Robles Batey. We found a partial building that was started years ago but was abandoned and falling apart. We decided that we could rebuild this structure and turn it into our church building Through many hard hours of work and God's will, the construction is complete There is a full time pastor living in an apartment connected to the church and weekly services are being held there.  We finished the church in 2009 and Praise God there is now a wonderful new building for those in Los Robles to worship.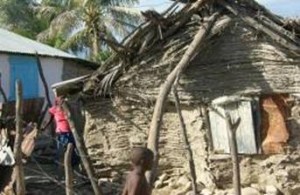 The Least of These Ministries
 170 Airport Dr.
Westminster, MD 21157
410-848-2128
steveh@qis.net