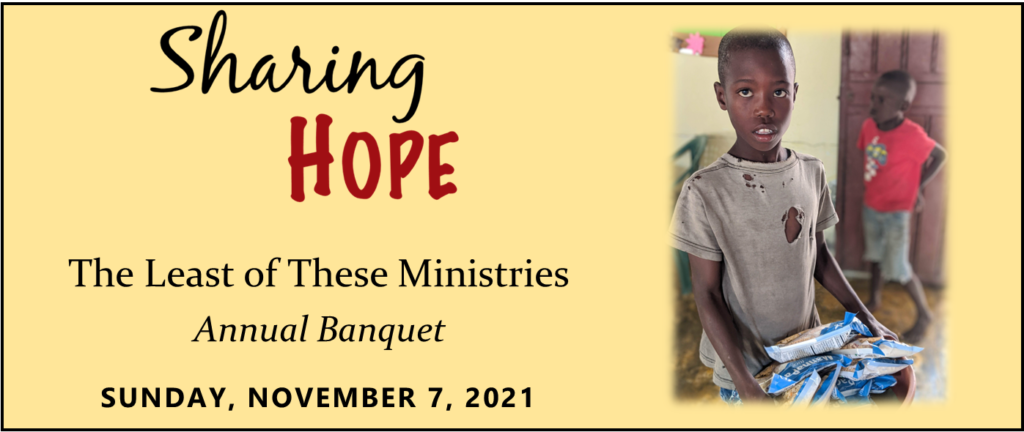 It happened later than expected, but we were finally able to gather with about 100 friends of the ministry to celebrate how God is working in the Dominican Republic. The banquet, which was originally scheduled for March 2020, had been rescheduled three times due to Covid-19 restrictions and concerns.
Guests enjoyed a delicious meal presented by Martin's Caterers and were treated to encouraging music by The Faith Boyz Band, while having an opportunity to bid on numerous silent auction items. Door prizes of larimar jewelry and coffee from the Dominican Republic were awarded to several lucky guests.
Board member Jacki Stranathan began the main program sharing her passion for serving on mission teams with The Least of These Ministries. She brought wonderful stories and great photos from teams on which she has served. Next, Board member Mel Arbaugh provided an update on the Ministry Hub project. Mel shared progress to date and reviewed current plans for the next phases (stay tuned for more on this!).
Marty Hogan, Executive Director, gave a brief update on recent ministry activities and announced a new initiative to further support local pastors, expected to launch in early 2022 (more to come on this, also!). Mark Wood, our keynote speaker, put the finishing touch on the afternoon with an uplifting presentation. Mark shared the tremendous positive impact serving on a mission team to the Dominican Republic had on his life. He credited ministry founder Steve Hull and his parents for encouraging him to serve on his first team.
Video highlights of several speakers at the event are available below.
We're grateful for all who attended! A huge thank-you to the following businesses and individuals who donated items for the silent auction or provided other in-kind support: Jack & Jane Anderson; Baugher's; Bill's Brush & Hammer; The Cutting Garden; Mike Henning; Ann Hull; Lind Family Farm; Minuteman Press (Hanover, PA); Ole Mink Farm; Sight & Sound Theatres; and Wait, What? Sauce Co.