This is the fifth and final in a series of reflections on our founder, Steve Hull, who passed away on November 18, 2019.
Posted December 11, 2020
I met Steve Hull after a Christian retreat weekend that our wives had just attended. Ann and Lisa were busily gathering their belongings while Steve and I waited in the parking lot. As we talked, he shared with me that he and Ann had recently started a feeding ministry in the Dominican Republic. I remember telling him that it must take a lot of courage to undertake such a significant project in another country.
For me, the idea of leaving your comfort zone—a successful long-term business in Steve's case—and taking on a new vocation in response to God's call was intimidating and overwhelming. Steve went on to tell me how God had called him to start the ministry and how he was trusting God to put everything together. About that time, Ann & Lisa were finished and ready to go.
That was all I had heard about the ministry until, a few years later, Lisa and our daughter, Jessica, went on a mission trip with Steve. That mission trip began my family's journey with The Least of These Ministries, which has brought me to a leadership position within the organization.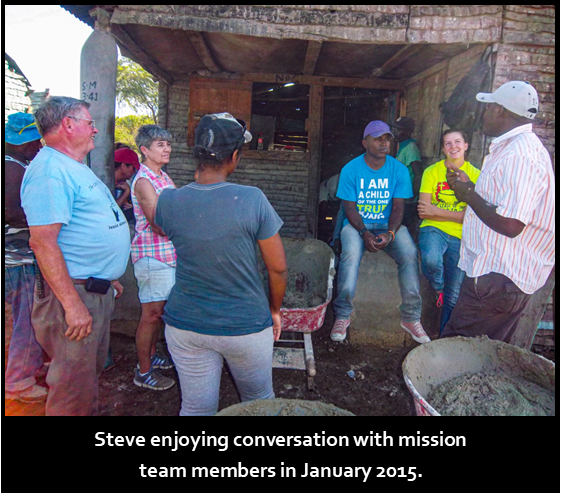 Since becoming connected with the ministry, I had many occasions to work with Steve and get to know his heart for God. Whether leading (and serving) a mission team, participating in a Board meeting, giving a presentation at a church, or just having a one-on-one conversation, Steve's humble obedience to God's call on his life was apparent. Through every step of the ministry's development, Steve would tell of how God led him to move forward.
Anyone who has spent time with Steve or heard him speak knows he liked to tell stories of his visits to the Dominican Republic. He had quite the collection of stories, and I was impressed with how far back many of his stories went. He would recall details, physical descriptions of people, and sometimes even names, from the early days of the ministry! That gave me some idea of the level of care and love he had for the people whom God called him to feed.
Steve would often say that he did not know anything about running a ministry, and anything good that came out of the ministry was only the work of God. As I near the end of my fifth year in leadership with The Least of These Ministries, I think I understand what he meant and can totally relate. Book knowledge and life experience help me get the day-to-day administrative work done. But unless I am attentive to God's voice and obedient to it, the real work—the important work—would be difficult, and likely futile.
That is the primary lesson that will stay with me as we move forward. Steve was a role model for many people, and he will continue to be missed.
—Marty Hogan