Posted March 16, 2021

As a younger man, José was a charcoal-maker and a fisherman. He and his wife, Olga, worked together to support their family of five children: Miguelito, Salvador, Franklin, Negrin, and Mery. Olga would sell the charcoal José made and the fish that he caught. They lived in an old house in Batey Mena Abajo. Olga jokes that when it rained, it rained inside the house first, then outside.
When José, now 67, was in his 30s, an accident during charcoal production left him blind in both eyes. That led Olga, now 73, to begin looking to neighbors for help. It was a difficult time, during which there were many days they did not have sufficient food for the family. It was during this time also that one of her sons heard about Jesus and began a relationship with Him. Soon after, Olga also trusted her life to Jesus. She says that Jesus told her, "I'm your right hand." From that point, her Pastor and church members helped the family with food and other needs.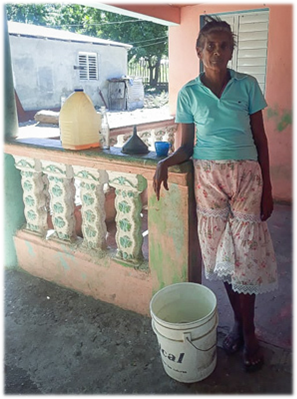 Some time ago, Olga's family was added to our food distribution in her community. She is very thankful to God for the food they receive through the ministry. "My husband is blind and I don't work. With this food, our family can eat for a few days."
Many of the participants in our Food Distribution Program are elderly, with no means to provide for themselves. Some have family to support them, others are cared for by their local church, and some may receive assistance from government programs. The food we provide helps to fill in the gap for these men and women.
During our mission team in January, team members visited homes in several of the bateys. On at least two occasions, residents told the visitors that they had run out of food that day, yet they were thankful to God because the blue truck showed up, bringing the blessing of food.
Please consider sending a gift to help us continue to support these men and women with nutritious food and encouragement from God's word.
Olga prays that God continues blessing the ministry, as the ministry is a blessing to many in the community. "God bless you!"